Antique Vintage Stained Glass Painted Casement Window Spanish Leaded Steel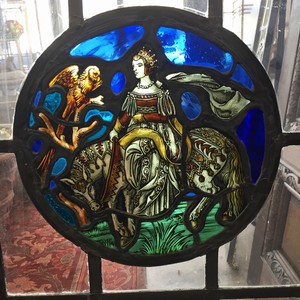 ---
Incredible steel casement, hand painted, stained glass leaded window in the Spanish/Tudor Style. We recognize these windows to be made no later than the 1920's because of the experienced craftsmanship that was so highly sought after during the time. You can see the amount of time and detail in the hand painted designs portraying medieval mythical creatures. The background crests are cut out of blue glass and the woman riding a horse with a stunning eagle are delicately hand painted with a touch of amber. I took photos of the back of the glass to show the spots of blue coloring which is the amber paint on the reverse side. They need this so the amber color shines through the lines which takes a lot of time and meticulous skill. These windows are encased in steel and come with original bronze hinges and handles.
It measures 18 inches by 49 inches
I took a photo showing a tiny crack in the green glass everything else is in great condition. There is now a tiny broken clear panel above the design but from experience these can be easily replaced. The leading is so meticulous and each panel of glass is colored or wavy and precisely cut to form an elegant pattern these photos can not truly portray its quality. There are 7 other stained glass windows up for separate auction. Each has a medieval, hand painted, design portraying scenes of elegant women, knights, griffins and horses. After careful examination it seems this window has a matching theme with another window in which the background is red and portrays a soldier on a horse with an eagle in the back. It is available in separate auction. All items are salvaged by Eric's Architectural Salvage located at 1540 W. 6th St. Los Angeles, CA 90017. Please view our other listings and feel free to contacts us with any questions you may have. Thank you!