Antique English Leaded Stained Glass Window Wood Frame 26 x 26 Arts & Crafts -1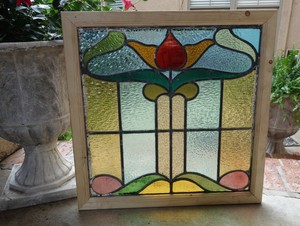 ---
Antique English Leaded Stained Glass Window Wood Frame 26 x 26  Arts & Crafts
~Direct from England~
Another lovely antique English stained glass window, personally selected for size, color & design and quality!
~Absolutely beautiful, with EIGHT COLORS…all panels are colored, no clear glass here!~ ~THIS LISTING IS FOR ONE WINDOW~
~All of my stained glass windows are architectural antiques rescued from renovated or demolished homes built in England before 1940.  Stained glass windows were standard features in most English homes in the early 1800's through the late 1920's.
These windows are GUARANTEED AUTHENTIC;  they were removed from their original window casements and transferred to shipping frames prior to leaving England.
Measurements:
26"H x 26" x 1";
stained glass is 22.5"H x 22.5".
THIS LISTING IS FOR ONE WINDOW ONLY.
We have a WIDE SELECTION of English & French antiques…please visit our online store !
NOTE:  All of our antiques are direct from Europe.   I personally select each item for the quality, design and unique characteristics that you will always find in our distinctive inventory at Geaux Vintage Antiques!
Condition:
This antique window is in good condition for its age, with normal signs of age and use, dings, scratches, and other imperfections.  Age and weather wear to the wood frame; expect bubbles, ripples, lines, etc. in the glass, all a function of how glass was made at the time, and age related scratches, etc. that result from being an outside WINDOW in a home!  I always provide multiple photos that should be considered as an integral part of the description and I encourage you to email me with any questions you might have prior to bidding.  Please keep in mind antique furniture should be purchased for its uniqueness, higher quality material and craftsmanship and antique patina, charm and character….NOT for like-new condition!!!
Shipping:
Professional packaging and shipping on this item will be $65.00. (lower 48 states only).  That's right, this is a LARGE window, and it can't be shipped via USPS.  Also, for insurance purposes it has to be packaged by UPS or FedEx, which is part of the cost.
Geaux Vintage Antiques has a large inventory of  English and European antique furniture, barley twist items, beveled mirrors, wall shelves, and many other unique and personally selected pieces for your home or office décor!
 …"with all that, why Geaux anywhere else?"…